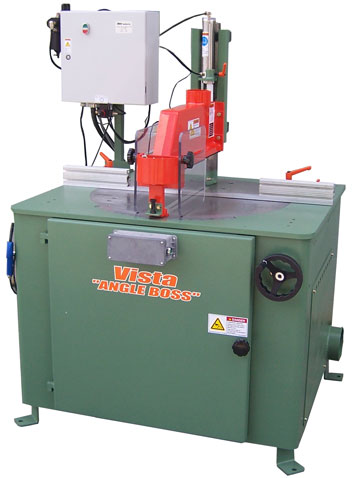 Quick and easy set-up.
Table is easily adjusted via handwheel conveniently located at front of machine.
Any miter angle can be set-up within 10 seconds!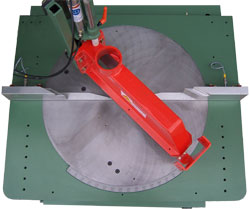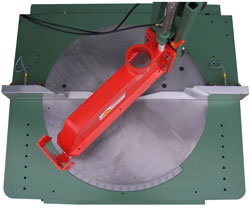 M-20 machines miter cut up to 75 degrees from 0 (90 degree cut).
Cut length on 2 x material with fence at standard position (single point of cut) - 12 inches.
Typical cuts are: 90 deg.on 2x12s - 30 deg. on 2x10s - 45 deg. on 2x8s - 60 deg. on 2x6s - 70 deg. on 2x4s.

M-20 machines are capable of cutting 2x6s on edge for bevel cuts. 4x4s cut with ease.

This is our base model angle cutting machine.

Standard Equipment:

20" Carbide Tipped Saw Blade
10 HP, tefc, 3 phase arbor drive motor
2 Hand cycle control
Magnetic starter in dust proof enclosure
Saw access door safety switch
"Quick Adjust Rod" for proper clamp/guard height
Large easy to read scales 0-75 or 90-15 degree
Air filter/regulator/lubricator
Air supply shut off valve
OSHA safety blow gun

Optional Equipment:

Solid or roller infeed & outfeed tables.
Digital readout displays angle with 1/10 degree accuracy
Manual & Air operated 4" high x 9" long swing up material stops.
CNC material stop gauge/feeder.
Hydro-pneumatic control of saw cutting speed for non-ferrous applications.
Laser light (shows blade position on top surface of workpiece with clamp/guard raised)

Only quality components which are readily available from Vista Machines or any number of supply houses across the country are used in the manufacture of "ANGLE BOSS" cut off saws.

Made with pride in the U.S.A.
For more information or to find the nearest "ANGLE BOSS" dealer, please contact us!

[ Home ] [ Model MB-18 ] [ Model M-20 ] [ Model M-20 - Auto-Set ] [ Model M-24 ] [ Model S-20 & S-24 ] [ Information Request Form ] [ About Vista Machines' Cut Off Saws ]
VISTA MACHINES INC.
19 Monarch Street - Littlestown, PA 17340
Tel: (717) 359-9212 Fax: (717) 359-4222
E-mail - sales@vistamachines.com