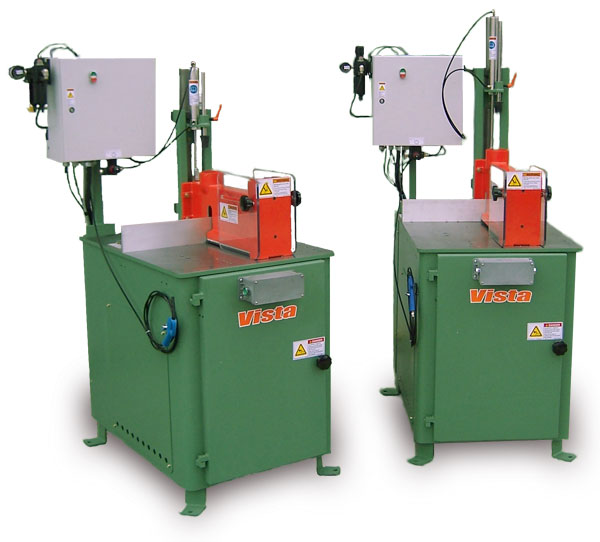 Model S-20 & S-24
For Lumber, Nonferrous Metals, Composites & Plastics
The Model S-20 machine was developed to satisfy the requests from existing customers operating our model M-20 machines, but needed additional cutting production without the mitering capability. Both our customers & we knew of other up-cut saw manufacturers, and quite frankly, we tried to sell them on these other machines. After all, why try to reinvent the wheel?

Our customers informed us that they liked the features & quality of our model M-20 machines, so they wanted us to build them a straight up-cut saw. The results are our S-20 & S-24 model machines.

Operation:

Operator pushes either left or right button located on front door control box. This brings the clamp/guard assembly down onto work piece. While holding this button, operator pushes second button. This cycles the blade up & down to make the cut. This method of operation ensures the operator cannot have a hand or finger in the cutting area of the machine. Releasing either button at any time lowers the blade below the table.

Standard Features:·

Machined flat table top - ensures precise square cuts - makes auto-feeding of materials easy
4" high fence rail clear through machine - helps in supporting & feeding of multiple pieces
20" (S-20) or 24" (S-24) x 100 tooth, TCG, Carbide Tipped Saw Blade
10 HP, tefc, 3 phase motor
Magnetic starter with solid state overload relay
24 vdc machine controls through plc
2 Hand cycle control
Saw access door kill switch
"Quick Adjust Rod" for proper clamp/guard height
Easy to reach saw cut speed control
Saw access door switch
Motor brake (S-24)
Air filter/regulator with shutoff valve for air supply
OSHA safety blow gun

Optional Equipment:

Solid or roller in-feed & out-feed tables
Manual & Air operated 6 " high x 9" long swing up material stops
NC or full CNC controlled auto feed systems
Air Over Oil control of saw cutting speed (for nonferrous metals)
Saw blade lubricator for cutting nonferrous & some plastics
Laser light (shows blade position on top surface of work piece with clamp/guard raised)
Clamp/guard height extension to allow oversized material to be processed
Speed sensing of sawblade to prevent overloading motor when cutting oversized materials.
Horizontal Clamps
Tilt Frame
Safety hood enclosure for Auto-Cycled machines

Vista Machines is an OEM systems integrator for TigerStop automated material stops. We can supply a complete cutting system to customer requirements or work with machine distributors to ensure a trouble free turnkey system for their customers.
Made with pride in the U.S.A.
For more information or to find the nearest "ANGLE BOSS" dealer, please contact us!
[ Home ] [ Model MB-18 ] [ Model M-20 ] [ Model M-20 - Auto-Set ] [ Model M-24 ] [ Model S-20 & S-24 ] [ Information Request Form ] [ About Vista Machines' Cut Off Saws ]
VISTA MACHINES INC.
19 Monarch Street - Littlestown, PA 17340
Tel: (717) 359-9212 Fax: (717) 359-4222
E-mail - sales@vistamachines.com